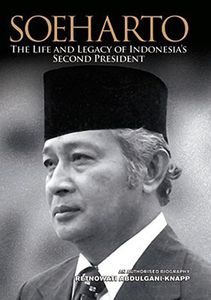 Biography Soeharto
• Born 8 June 1921
• Kemusuk, Dutch East Indies
• Died 27 January 2008 (aged 86)
• Jakarta, Indonesia
• Nationality Indonesian
• Political party Golkar
• Spouse(s) Siti Hartinah (m. 1947–1996; her death)
Biography Soeharto
Soeharto was the second President of the Republic of Indonesia. He was born in Kemusuk, Yogyakarta, on June 8, 1921. His father was a farmer named Kertosudiro well as auxiliary fields irrigation headman in the villag e, while his mother was Sukirah. Suharto entered school when he was eight, but often moving. Originally schooled in the Village School (SD) Scores, Godean. Then move to SD Pedes, because her mother and her husband, Mr. Pramod moving house, to Kemusuk South. However, Mr. Kertosudiro then move it to Wuryantoro. Suharto left at home his sister who is married to Prawirowihardjo, a paramedic farmer.
Until finally chosen as exemplary soldier NCO School, Gombong, Central Java in 1941. He officially became a member of TNI on October 5, 1945. In 1947, Suharto was married to Siti Hartinah Mangkunegaran a young employee.
Marriage Lt. Col. Suharto and Siti Hartinah held on December 26, 1947 in Solo. At that time the age of 26 years and Hartinah Soeharto 24 years. They had six sons and a daughter; Siti Hardiyanti Hastuti, Sigit Harjojudanto, Bambang Trihatmodjo, Siti Hediati Herijadi, Hutomo Mandala Putra and Siti Hutami Endang Adiningsih.
Major General H.M. Soeharto had walked a long way in the military and political career. In the military, Suharto start of KNIL sergeant, then commander of the MAP, the commander of the regiment with the rank of Major and battalion commander Lieutenant Colonel.
In 1949, he successfully led his troops to retake the city of Yogyakarta from the hands of the Dutch at that time. He also served as Commander of the Guards Sudirman. In addition, once the commander Mandala (liberation of West Irian).
Dated October 1, 1965, erupted G-30-S/PKI. Suharto took over the leadership of the Army. Apart confirmed as Army Commander, General Suharto appointed Commander by President Soekarno. In March 1966, General Suharto received a Decree of March 11 of President Soekarno. His job, restore security and order and safeguard the teachings of the Great Leader of the Revolution Bung Karno.
Because of the political situation worsened after the outbreak G-30-S/PKI, MPRS Special Session, March 1967, appointed Soeharto as Acting President, was inaugurated as the second President of Indonesia, in March 1968. Suharto ruled for more than three decades past six elections, until he resigned, May 21, 1998.
After being treated for 24 days at Pertamina Central Hospital, South Jakarta, former president Soeharto finally died on Sunday, January 27, 2006). Suharto died at 13:10 noon at the age of 87 years.